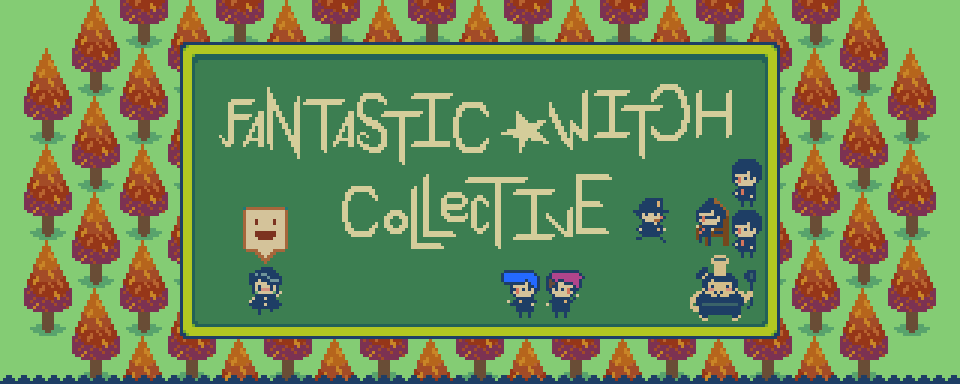 Fantastic Witch Collective
A downloadable witch simulator for Windows, macOS, and Linux
Fantastic Witch Collective is the world's premiere digital witch simulator. You experience the life of a young witch in a bizarre, magical world full of vibrant and diverse characters.
Create a character to represent whoever you want to be then begin your life as a young and upcoming witch. Enroll in the Young Witches' Academy to master spells in the art of witch dueling, or maybe just gawk at the school president's giant robot suit they use to fight monsters from another dimension. Take up gardening to liven up your home & neighbourhood, who doesn't like man-eating flora here and there to give the give the streets some colour? Try your hand at cooking to spice up your life, take control of your diet, and poison the souls of your enemies. Take to the mayor to protest the lack of broom lanes. Maybe you just can't quite grasp the magical lifestyle and decide a peaceful life of corporate toil is more your thing? Well, you don't need a digital witch simulator for that.
With so many fantastic things to do, and so many fantastic characters to meet, this game boasts infinity hours of play-however-long-you-want playtime with over seventeen quintillion quests! (we didn't count) Pop in and play an episode–styled after saturday morning cartoons–when you have 10 or 15 minutes to spare, or pick up free-play mode and take on the town freely without anyone (but maybe your mom) telling you what to do.
Fantastic Witch Collective aims to provide a unique experience by reaching into its classic rpg roots while creating a different kind of world uncommonly seen in mainstream gaming: one that's charming, accessible, queer-oriented, and focused on everyday life issues.
Fantastic Witch Collective is currently in development and aims to release in the summer of 2015. The game is up for pre-order in the meantime to finance the development of the game (gotta pay rent!): Leading up to the full game, each month a demo will be released to showcase the new content & features added to the game. By supporting the development early on, you'll have a chance play a part in shaping the game and witness as it forms to completion.
You can also support the development on Lulu Blue's Patreon.
---
In this month's demo, the Adventure Demo, try:
Playing through a small, fun quest which seeks to capture the overall tone the game aims for.
The new, far more dynamic, action-based magic duel system
Meeting some of the game's staple characters, like Glitter Cop Red & Glitter Cop Blue
Finding the spoopy Halloween secret hidden inside!
---
NOTICE: Fantastic Witch Collective is a cancelled project, here you can see where I got with it.
Install instructions
Thank you for purchasing the Early Access edition of Fantastic Witch Collective!
To play the game, unzip the download file then run the respective application in the folder for your operating system; .app for OSX, .exe for windows, or .love for Linux.
I hope you enjoy Fantastic Witch Collective!